Featured Guest Artists and Performers
This year, we're featuring the works of two remarkable contemporary artists who are members of The Church of Jesus Christ of Latter-day Saints: sculptor Leroy Transfield and painter Linda Etherington. We're also delighted to present performances by local musicians to fill the exhibit hall with the sounds of the season. Learn more about them below.
Leroy Transfield, sculptor
I get to do what I love, which is sculpting people in the round. Sculpture is a wonderful form of expression. To transfer an idea or a feeling and give it form and space, brings great peace and satisfaction. Living as an artist can be an emotional roller coaster, but the joys of creating something beautiful make the whole thing worthwhile.
The most important strength an artist can possess is passion and the drive to search out the clay and find the hidden masterpiece. The human form is my subject and I use it to present my thoughts, my dreams. Themes that I like are anything that ennobles man and messages that bring hope, or a renewal and an appreciation of life itself.I love to create works with lots of emotion, energy and movement. When the piece is left a little rough or unfinished, it opens it to the viewer to interpret the rest.
Leroy Transfield was born in New Zealand and is of Maori and European extraction. Transfield received his Bachelor of Fine Arts from BYU-Hawaii in 1993. Upon graduation he taught sculpture. Soon after, he opened his own studio in Utah. Leroy enjoys studying all art and is inspired by the masters in various fields including Michelangelo, Rembrandt, Beethoven, Tchaikovsky and Van Gogh. 
Linda Etherington, painter
I love love love to paint. I love color. And, blessedly, color is everywhere! I love shape! And—thank the heaven's—everything's a shape: organic and geometric and all in between. I love space—positive space, negative space, and mercy me, it's everywhere I look! How can I be so blessed to have eyes to see color, shapes, and space, and live in a time when women are encouraged to paint? It is a feast—everyday.
Born in Washington State, I grew up on a small 10 acre farm.  My mom taught me to paint. I am forever grateful to my mother. I went to Brigham Young University (BYU) where I studied painting with an art scholarship and graduated with a BFA in Painting. Over the next 14 years my husband and I were blessed with 7 daughters. Our little girls filled my life with new colors, new shapes, new spaces, and new brain challenges.  Now my family is still growing. I have married daughters and grandchildren. 
I still love love love to paint. Shapes and colors still call out to me; I sing back to them and I paint. In the hurry and bustle of life, as well as in life's occasional sadness and sorrow, I paint my way through — working always to notice the world around me, and in it find the best gifts and the sweet things.
This year, we're fortunate to have many talented singers and musicians participate in our events. We hope you will be able to attend and appreciate the beauty that they bring through music.
Zion Youth Choir
The Zion Choir, a youth performing group of approximately 50 high school juniors and seniors from the greater San Jose area, shares the light of the gospel through music. Since its founding in 1998, the choir's primary objective has never wavered: to provide an opportunity for all in attendance to feel God's spirit. Today, director Denise Erskine continues that mission, assisted by Jocelyn Goldberg.
Around the World Carols and Singalong
Sing Choir of Angels! Please join us in this concert of familiar carols from around the world, where you can sing along as part of the "choir of angels."  James Welch will be at the keyboards, joined by soprano Betsy Johnson, oboist Jennifer Sandland, and Christian Hales on the bass, in arrangements of carols from England, France, Austria, Poland, as well as a calypso favorite, and American spirituals.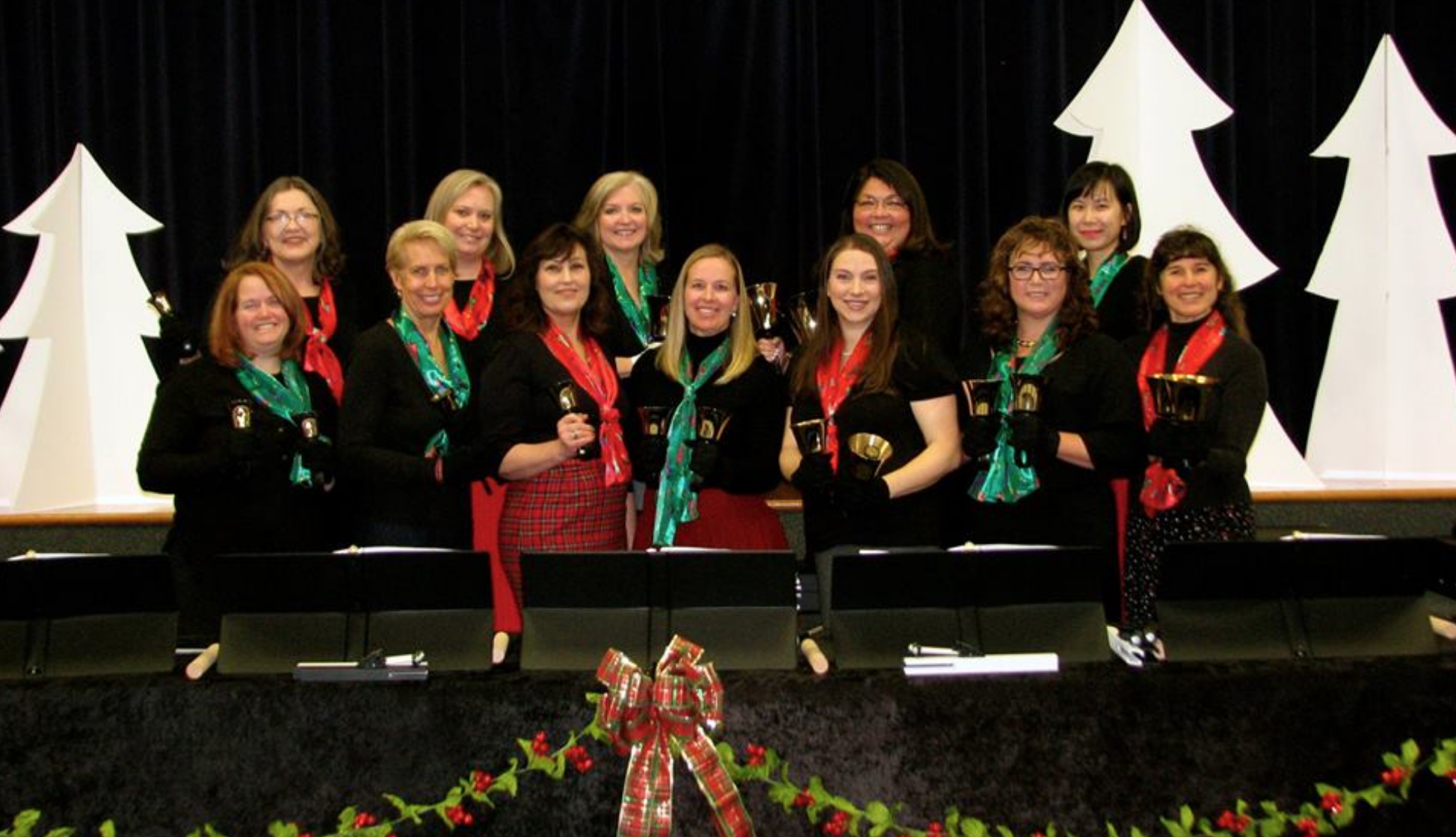 Redwood Ringers Handbell Choir
Making their Creche Exhibit debut, the Redwood Ringers, a handbell choir of eleven years, is comprised of members of The Church of Jesus Christ of Latter-day Saints in Redwood City.  Hoping to bring a richer Christmas sound to her congregation, Marilyn Hansen, a seasoned ringer formally with the San Francisco State Handbell Choir, formed the Redwood Ringers and honed their skills beyond simple ringing.  Using techniques such as Martelloto lifts, Shelly ringing, and Swings, the bell choir plays on 3.5 octaves handbells and 3 octaves handchimes.
Mayfield Singers
Mayfield Singers, a select group of choral musicians assembled in 2014, performs locally in and around the Palo Alto, California area. We intend, with every performance, for you to feel something soothing, invigorating, and spiritual.
We sing a broad range of repertoire in many languages and styles, from Tallis and Byrd to Mendelssohn, Fauré, and Mozart to Whitacre, Ešenvalds, and Gjeilo. You'll hear contemporary compositions, movements from choral masterworks, spirituals, Renaissance motets and more!
Gunn High School Chamber Singers
Led by William Liberatore, the Gunn High School Chamber Singers perform a variety of choral literature including Renaissance, Baroque, Classical, Jazz, Gospel and music from around the world.  Since 1991, the Gunn Choir has received 18 Unanimous Superior ratings from the California Music Educators Association. The choir has performed in many countries, including with orchestra in the Votiv Kirche in Vienna and most recently in June 2019 in Italy for mass at the Vatican.
Valparaiso Singers
Established in 1987, The Valparaiso Singers is a voice ensemble choir based in the San Francisco Bay Area. The ensemble's repertoire ranges from larger classical masterworks (Mendelssohn's Elijah, Faure's Requiem) to intimate choral compositions from renowned choral composers (Eric Whitacre, John Rutter). Led by Jonathan McPhie, The Valparaiso Singers advance their mission to inspire, uplift, and entertain audiences through beautiful choral music.
We sing a broad range of repertoire in many languages and styles, from Tallis and Byrd to Mendelssohn, Fauré, and Mozart to Whitacre, Ešenvalds, and Gjeilo. You'll hear contemporary compositions, movements from choral masterworks, spirituals, Renaissance motets and more!
Mountain View High School Madrigals
Led by Jill Denny, the award-winning Mountain View High School Madrigals sing a wide range of repertoire from around the world.  They have performed extensively throughout the Bay Area, including past "Nutcracker" performances at the San Jose Center for Performing Arts and at the Filoli Estate. Annual international tours have taken them to many countries, including performances of Renaissance music in London at St. Paul's Cathedral and Notre Dame in Paris.