Featured Guest Artists, Speakers and Performers
Rose Datoc Dall, artist
Filipina-American artist Rose Datoc Dall was born in Washington, DC and raised in Northern Virginia. She received her BFA from Virginia Commonwealth University School of the Arts. Rose is predominantly a contemporary figurative painter, distinctive for her graphic compositions, unconventional use of color, and linear graphic sensibility. Rose is also known for her body of religious art.
A three-time Purchase Award Winner of the International Art Competition for the Church of Jesus Christ of Latter-day Saints, she has works in permanent collections at the Museum of Church History and Art, Brigham Young University, and Southern Virginia University.
In addition to exhibiting, Rose enjoys teaching private Figure Drawing and Painting Workshops and lectures on occasion as a way of giving back to her community. 
Rose and her husband Timothy have four adult children and a growing number of grandchildren. The Dalls, having transplanted from their long-time home in Ashburn, Virginia, currently live in Woodland Hills, Utah.
J. Kirk Richards, artist
Joel Kirk Richards is a contemporary artist whose work engages with themes of antiquity, religion, spirituality, equality, and love. His work asks questions about modern application and implementation of religion as it relates to historical narratives and mythologies. The work often prioritizes the poetry of religious text over dogma or historical accuracy. Stylistically it often bridges or walks a tightrope between classical and abstract expression.
From 1999 to 2022, Kirk created about 2300 physical works of art, most of which can be found in private collections throughout the United States. His images have been licensed for devotional and religious studies publications internationally.
In 2020, Kirk founded a mixed-use art space, including studio rentals, a gallery that hosts monthly themed exhibits by living professionals and semi-professionals, and a continued education art academy.
Kirk lives and works at his studios in Woodland Hills, Redmond, and Provo, Utah, and in Bondsville, Massachusetts. He and his wife Amy Tolk Richards have four children.
2023 Speakers & Performers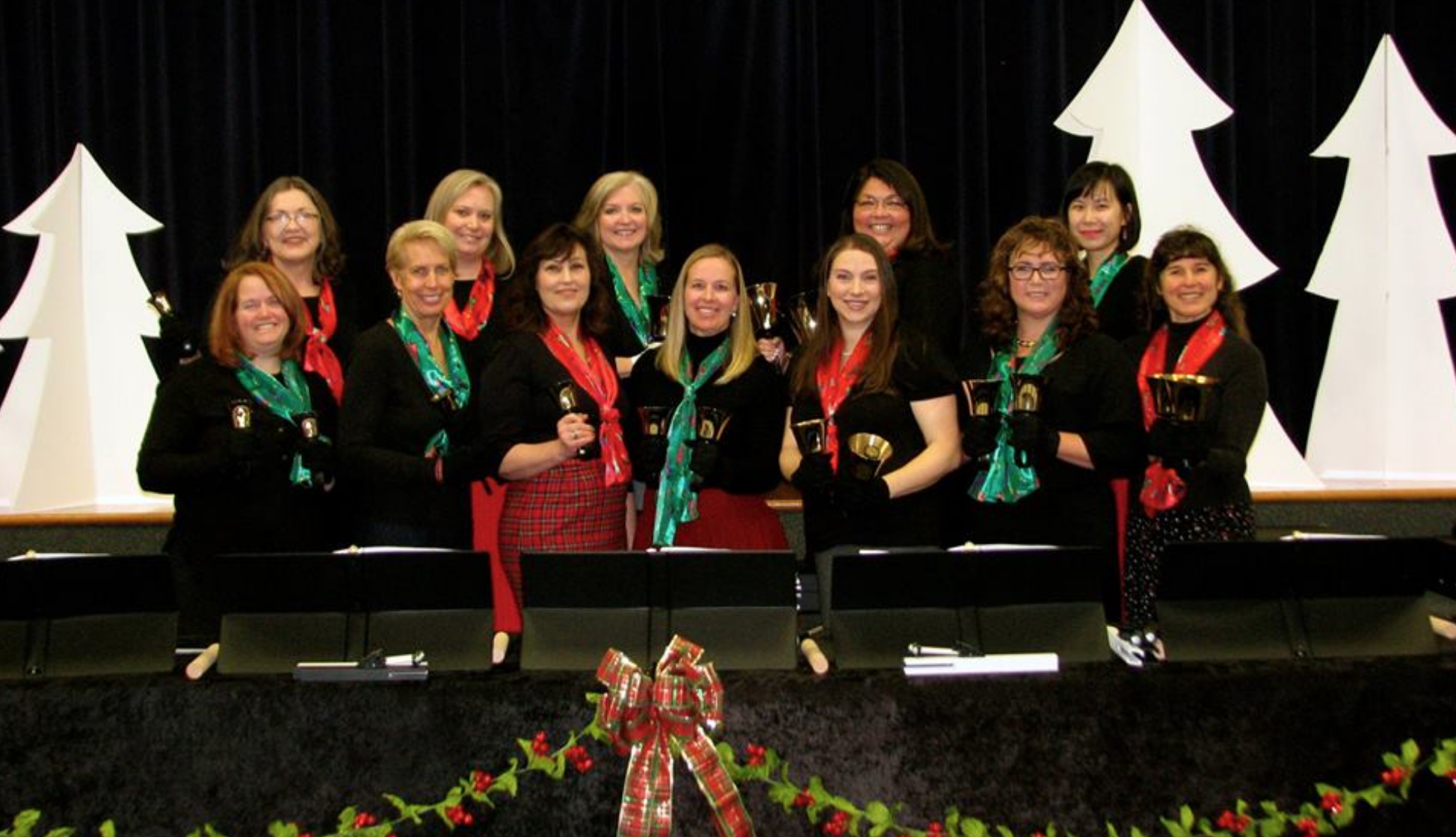 Redwood Ringers Handbell Choir
The Redwood Ringers is a handbell choir composed of community members from the San Francisco Bay Area. Hoping to bring a richer Christmas sound to her congregation, Marilyn Hansen, a seasoned ringer and former member of the San Francisco State Handbell Choir, founded the Redwood Ringers in 2008. The bell choir plays on 3.5 octaves handbells and 3 octaves handchimes.
Mountain View High School Madrigals
Led by Jill Denny, the award-winning Mountain View High School Madrigals sing a wide range of repertoire from around the world.  They have performed extensively throughout the Bay Area, including "Nutcracker" performances at the San Jose Center for Performing Arts and at  Filoli. Annual international tours have taken them to many countries, including performances of Renaissance music in London at St. Paul's Cathedral and Notre Dame in Paris.
"The Prince of Peace" Instrumentalists and Vocalists
Join us for a festive concert of favorite songs and carols in tribute to the Prince of Peace. Bay Area popular performers–Russell Hancock on the piano, James Welch at the organ, and vocalist Brent Wesson–will brighten your holiday celebrations.  The program will also include tender Christmas music by local composer Mary Finlayson.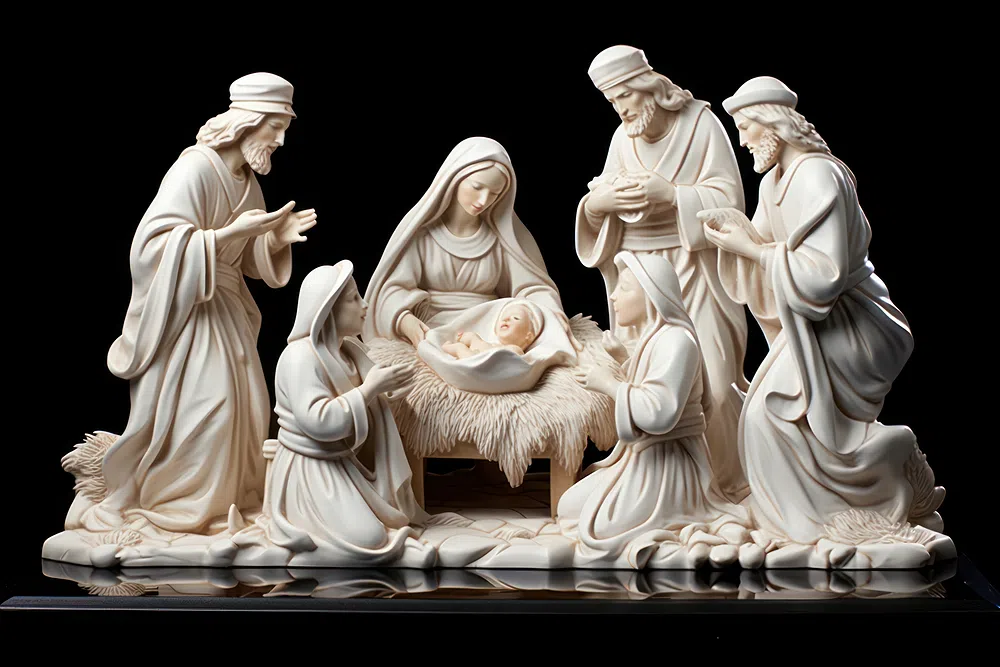 Crèche History and Stories
Explore crèche history and stories to add inspiration and joy to your Christmas season. Discover the evolution of nativity art, where faith meets creativity, as a timeless tradition around the world. Hear fascinating stories of some of the nativities, exhibitors, and artists featured in this year's exhibit. Join us for this talk by Marguerite Gong Hancock or Lisa Madsen Pearson, veteran nativity collectors and leaders of the Christmas Crèche Exhibit.
"For Unto Us" Vocalists and Instrumentalists
Celebrate Jesus Christ and His many names as "Wonderful, Counselor, the Mighty God." Enjoy key selections from Handel's Messiah, as well as other familiar Christmas music and carols.  Led by Jonathan McPhie, musicians will include the CRANDL Chamber Group, vocal ensembles, soloists, and opportunities for the audience to sing along.
Gunn High School Chamber Singers
Led by William Liberatore, the Gunn High School Chamber Singers perform a variety of choral literature including Renaissance, Baroque, Classical, Jazz, Gospel and music from around the world.  Since 1991, the Gunn Choir has received many Unanimous Superior ratings from the California Music Educators Association. The choir has performed in many countries, including with orchestra in the Votiv Kirche in Vienna and in Italy for mass at the Vatican.